Fashion
Princess Diana's most iconic look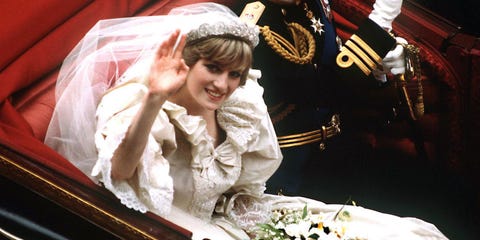 Getty
Princess Diana will forever be one of the most stylish royals in history. From her gorgeous '80s wedding dress to her chic black "revenge" dress, take a look back at some of her most fashionable moments of all time.
first out of 50
1981
In her engagement photos, fresh-faced Lady Diana Spencer wears sapphire blue to match her engagement ring, and the photos make an immediate impression.
2 out of 50
1981
No one wears Korean clothes like Princess Di wears Korean clothes. While not one of her most famous looks, this outfit from before her wedding has inspired women around the world to wear their rain boots.
3 out of 50
1981
Diana's wedding dress, in all its 1980s glory, became an instant icon after her wedding was broadcast to an estimated 750 million television audience.
4 out of 50
1981
During phase one of Diana and Charles' honeymoon, this dress caused quite a stir. Who says flowers have to be boring?
5 out of 50
1981
When your honeymoon includes hunting and fishing at a Scottish estate, it's best to try doing it in style, as in this two-piece tweed set.
6 out of 50
1982
If the dress Diana wore during her first pregnancy looks familiar, it could be because Kate Middleton wore an outfit very similar to when she left the hospital with Prince George.
7 out of 50
1983
A princess dressed in pink may not seem like anything revolutionary, but this outfit further cements Diana's reputation as an icon. Many royals wear gloves at formal events, but Diana never wears gloves because she feels it makes her closer to people.
8 out of 50
1985
This Victorian-inspired dress almost became famous when Diana's dance partner in this photo, young John Travolta.
9 out of 50
1985
For the royal family, it was extremely scandalous to wear a skimpy bathing suit like this. For fashion fans around the world? That's right.
ten out of 50
1985
It's hard to stand next to Nancy Reagan, one of the most beautiful first ladies in American history, and look this great. Diana wore a white coat and dress with ease.
11 out of 50
1985
Let Princess Diana take what is supposed to be a necklace and wear it like a headband.
twelfth out of 50
1985
In a slightly more conservative outfit, Diana appeared to be giving a nod to Jackie Kennedy.
13 out of 50
1986
Princess Diana has had her moments with daring style, but she knows how to be regal when circumstances dictate.
14 out of 50
1986
Not one of her most memorable red carpet moments or anything, but who looks this good while skiing? Serious.
15 out of 50
1987
This dress seems simple, but it's a classic recipe: Cinderella style, baby blue. Princess Di wore it in Cannes. This dress sold at auction in 2011 for £80,000.
16 out of 50
1987
Some say Princess Diana went overboard with it in this Escada tartan coat and Philip Somerville hat. In her defense, it's the 80s!
17 out of 50
1988
Princess Diana attended the Remembrance Day ceremonies in a more somber look – but the birdcage veil still made it stand out.
18 out of 50
1988
Only Princess Diana could wear cowboy boots, a sweater, and top it off in a completely unique yet comfortable ensemble.
19 out of 50
1988
Diana exudes military chic in this white and gold set.
20 out of 50
1988
Polka dots can often look overwhelming, but Princess Diana turned them out in style.
21 out of 50
1988
Most people recognize this photo because Prince Harry has always been adorable, but Diana's matching outfits also caught the eye.
22 out of 50
1988
Wear shoulder pads! Even wearing a trend that has become outdated, Diana still looks timeless.
23 out of 50
1989
This photo was probably taken in 2017. Diana's outfit, hair, and makeup are all classic. I see it's millennium pink?
24 out of 50
1989
This glittery column gown is yet another look at the timeless Princess Di. If you see this on the red carpet of 2017, you won't be able to take your eyes off it.
25 out of 50
1989
Diana has a knack for creating effortless and modern casual looks, which this tunic definitely does.
26 out of 50
1989
What's the most luxurious thing in this photo, Diana's dress, the Rolls Royce she's climbing out of, or her tiara? Answer: all of the above.
27 out of 50
1989
The combination of this tiara, turtleneck top, and her signature blue eyeshadow led the press to call this Diana "Elvis" look (in a good way).
28 out of 50
1989
Compared to some of Diana's other red carpet looks, this floral dress is almost tame, but still stunning nonetheless.
29 out of 50
1989
Note to self: Wear more hats. Diana's flamboyant looks were just enough to capture the world's attention.
30 out of 50
1989
Another baby blue dress that immediately won hearts when Diana wore it in Cameroon.
Advertisement – Continue Reading Below
This content is created and maintained by third parties and is imported into this site to help users provide their email addresses. You can find more information on this and the like at piano.io