Sports
Fantasy WR PPR Leaderboard Week 16: Who Started, Sitting In Front Of The Wide Lens In Fantasy Football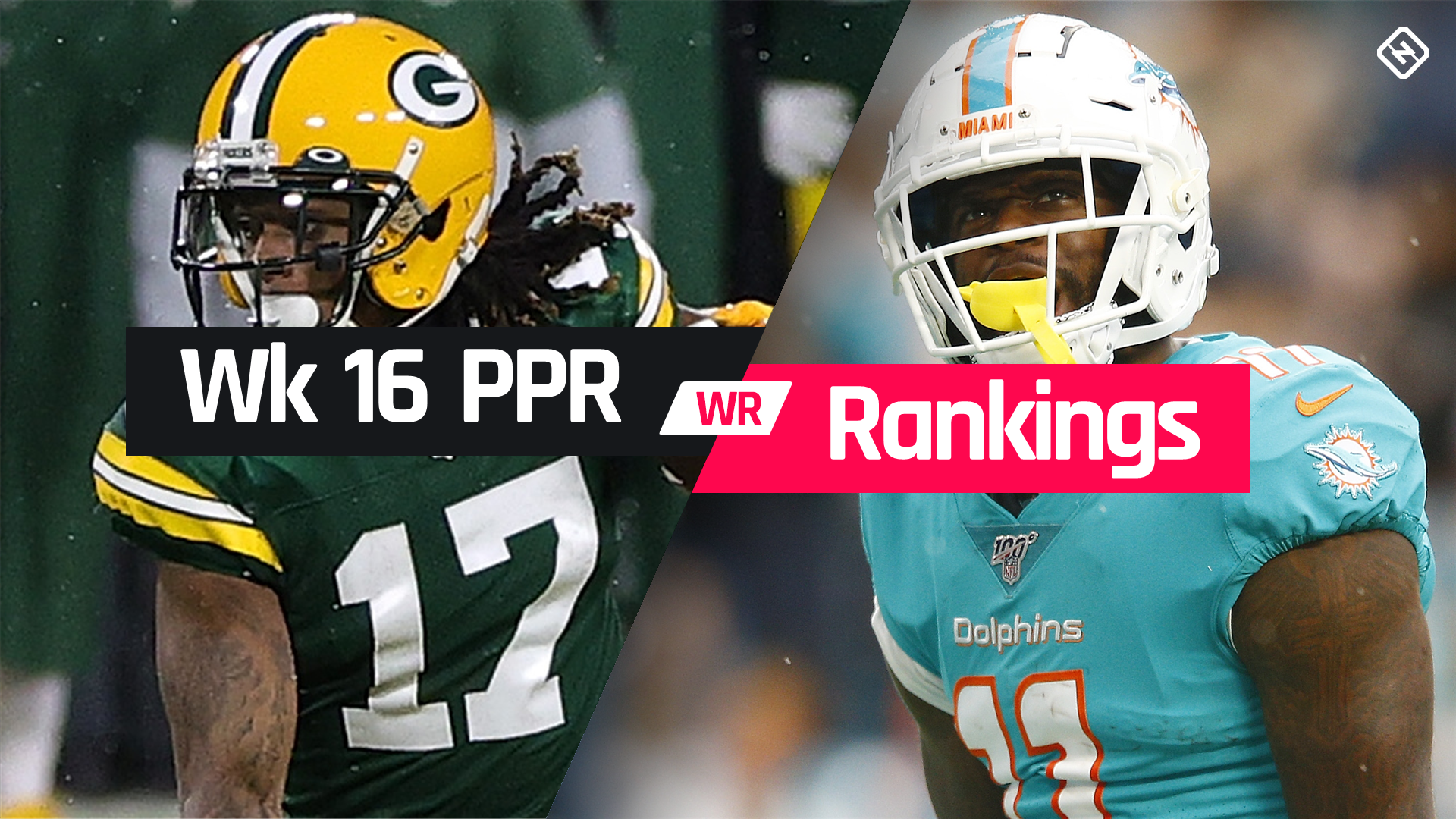 Most fantasy football owners – at least those still alive in their knockout rounds – are aware of the ridiculous number of players that have appeared on the reserve/COVID-19 roster during the week past and it is likely that we will have to continue to deal with that in the future. It's therefore important to familiarize yourself with our fantasy WR PPR Week 16 leaderboard, as you never know who will end up inactive as game day rolls around. Hopefully the worst is over for us, but either way, you'll have to make some tough starting decisions, sit down this must-win week.
AJ Brown (vs 49ers) and Antonio Brown (@ Panthers) are eligible to return this week, and there's little doubt many fantasy owners are patiently waiting to get one of the Browns back. their squad. Neither has particularly favorable matches, but as long as they're active, both should be starters for fantasy owners.
WEEK 16 PPR RANKING:
Midfielder | Run back | Tight ending | VND / ST | Kicker
Mike Evans and Chris Godwin (vs 49ers) are too good to sit on the bench despite the same tough game Antonio is facing. (Update: Godwin is out for the rest of the season and Evans has a hamstring injury on a weekly basis.) The same goes for Stefon Diggs (@Patriots). Brandin Cooks (versus Chargers) is a boom or bust pick, but he actually played better against Davis Mills, so you can still take your chances with him if you're looking for level high ceiling.
WEEK 16 STANDARD RATINGS:
Midfielder | Run back | Wide receiver | Tight ending | VND / ST | Kicker
Jamison Crowder (vs. Jaguars), Amon-Ra St. Brown (@ Falcons) and Russell Gage (vs. Lions) are considered the best PPR players among players with less than 51% ownership in Yahoo leagues. In the deeper leagues, Braxton Berrios (vs Jaguars) and Josh Reynolds (@ Falcons) could also be considered. The loss of TJ Ho Chickenon, Elijah Moore and Corey Davis has opened the door for more opportunities between the Lions and Jets' pass catchers, and in eye-catching games like this, we're pretty confident they're. Offering.
Boomers are more attractive in standard leagues, but at some point in the rankings you also have to consider them under PPR. Players in that group include Marquez Callaway and Tre'Quan Smith (vs. Dolphins), Marvin Jones and Laquon Treadwell (@Jets), Robby Anderson (vs. Buccaneers), Marquez Valdes-Scantling and Allen Lazard (vs. Browns) ). All but the Packers have solid matches, but at this point those WRs can explode or break in any match when tied to Aaron Rodgers.
Jerry Jeudy (@Raiders), Gabriel Davis and Cole Beasley (@Patriots), Kenny Golladay and Kadarius Toney (@ Eagles), Rashod Bateman (@ Bengals), TY Hilton (@ Cardinals) and KJ Osborn (@ Rams) join these the matches are tough, and since we can't count on them with any kind of consistency, it's possible – even likely – that you have better picks. You can really extend that to Michael Pittman (@ Cardinals), Marquise Brown (@ Bengals), and possibly Adam Thielen (@ Rams) if he does return, as they all struggle or fail. recently. Brown has a high floor PPR, so he's the safest of the bunch.
At this point in the season, you have to be aware of the fact that teams don't compete easily with underpowered players, as well as the obvious COVID worries. Have backups ready – then have backups for your backups – and when in doubt, trust backups.
Note: We'll be updating these WR PPR charts as needed throughout the week, so check back for the latest changes and analysis.
Fantasy WR PPR Chart Week 16: Who will start at wide receiver
Rating based on Full point PPR scored
| | |
| --- | --- |
| Places | Player |
| first | Cooper Kupp, LAR @ MIN |
| 2 | Davante Adams, GB vs CLE |
| 3 | Tireek Hill, KC vs. PIT |
| 4 | Keenan Allen, LAC @ HOU |
| 5 | Deebo Samuel, SF @ TEN |
| 6 | Justin Jefferson, MIN vs LAR |
| 7 | Jaylen Waddle, MIA @ NO |
| 8 | CeeDee Lamb, DAL vs. WAS |
| 9 | Tyler Lockett, SEA vs. SPEND |
| ten | Diontae Johnson, PIT @ KC |
| 11 | Terry McLaurin, WAS @ DAL |
| twelfth | Mike Evans, TB @ CAR |
| 13 | Amari Cooper, DAL vs. WAS |
| 14 | Stefon Diggs, BUF @ NE |
| 15 | DeVonta Smith, PHI vs. NYG |
| 16 | Ja'Marr Chase, CIN vs. BAL |
| 17 | Tee Higgins, CIN vs. BAL |
| 18 | Antonio Brown, TB @ CAR |
| 19 | Mike Williams, LAC @ HOU |
| 20 | DK Metcalf, SEA vs CHI |
| 21 | Brandon Aiyuk, SF @ TEN |
| 22 | DJ Moore, CAR vs TB |
| 23 | Odell Beckham Jr., LAR @ MIN |
| 24 | AJ Green, ARI vs. IND |
| 25 | Van Jefferson, LAR @ MIN |
| 26 | Brandin Cooks, HOU vs. LAC |
| 27 | AJ Brown, TEN vs. SF |
| 28 | Darnell Mooney, CHI @ SEA |
| 29 | Hunter Renfrow, LV vs. DEN |
| 30 | Russell Gage, ATL vs. DET |
| thirty first | Amon-Ra St. Brown, DET @ ATL |
| 32 | DeVante Parker, MIA @ NO |
| 33 | Marquise Brown, BAL @ CIN |
| 34 | Adam Thielen, MIN vs LAR |
| 35 | Jamison Crowder, NYJ vs JAX |
| 36 | Christian Kirk, ARI vs. IND |
| 37 | Tre'Quan Smith, NOT compared to MIA |
| 38 | Jarvis Landry, CLE @ GB |
| 39 | Chase Claypool, PIT @ KC |
| 40 | Michael Gallup, DAL vs. WAS |
| 41 | Michael Pittman Jr., IND @ ARI |
| 42 | Kendrick Bourne, NE vs BUF |
| 43 | Jerry Jeudy, DEN @ LV |
| 44 | Gabriel Davis, BUF @ NE |
| 45 | Josh Reynolds, DET @ ATL |
| forty six | Jakobi Meyers, NE vs. BUF |
| 47 | Allen Robinson, CHI @ SEA |
| 48 | Robby Anderson, CAR vs TB |
| 49 | Donovan Pe People's-Jones, CLE @ GB |
| 50 | Kadarius Toney, NYG @ PHI |
| 51 | Marquez Valdes-Scantling, GB vs. CLE |
| 52 | Kenny Golladay, NYG @ PHOTO |
| 53 | Marquez Callaway, NO vs. MIA |
| 54 | Laquon Treadwell, JAX @ NYJ |
| 55 | Marvin Jones, JAX @ NYJ |
| 56 | Braxton Berrios, NYJ vs JAX |
| 57 | Cole Beasley, BUF @ NE |
| 58 | KJ Osborn, MIN vs LAR |
| 59 | Jalen Guyton, LAC @ HOU |
| 60 | Allen Lazard, GB vs. CLE |
| sixty one | Rashod Bateman, BAL @ CIN |
| 62 | Curtis Samuel, WAS @ DAL |
| 63 | Tyler Boyd, CIN vs. BAL |
| sixty four | Courtland Sutton, DEN @ LV |
| 65 | Mecole Hardman, KC vs. PIT |
| 66 | Nick Westbrook-Ikhine, TEN vs. SF |
| sixty seven | Laviska Shenault Jr., JAX @ NYJ |
| 68 | Lil'Jordan Humphrey, NO vs. MIA |
| 69 | Kalif Raymond, DET @ ATL |
| 70 | Tyler Johnson, TB @ CAR |
| 71 | Keelan Cole, NYJ vs JAX |
| 72 | TY Hilton, IND @ ARI |
| seventy three | DeSean Jackson, LV vs. DEN |
| 74 | Rondale Moore, ARI vs. IND |
| 75 | Antoine Wesley, ARI vs. IND |
| 76 | Josh Palmer, LAC @ HOU |
| 77 | James Washington, PIT @ KC |
| 78 | Sammy Watkins, BAL @ CIN |
| 79 | Nelson Agholor, NE vs BUF |
| 80 | Nico Collins, HOU vs. LAC |
| 81 | DeAndre Carter, WAS @ DAL |
| 82 | Tim Patrick, DEN @ LV |
| 83 | Chester Rogers, TEN vs. SF |
| 84 | Zach Pascal, IND @ ARI |
| 85 | Dee Eskridge, SEA vs. SPEND |
| eighty six | Jauan Jennings, SF @ TEN |
| eighty seven | Bryan Edwards, LV vs DEN |
| 88 | Zay Jones, LV vs. DEN |
| 89 | Darius Slayton, NYG @ PHI |