News
Americas: Rising COVID-19 caseload should be a 'wake-up call' |
More than 918,000 cases was recorded last week, up 27.2% in the last week, and more than 3,500 people diedThe latest information from the Pan American Health Organization (PAHO) has revealed.
Eighteen countries have seen a spike in hospitalizations, while intensive care admissions increased in 13 countries and territories.
"The increase in cases should be a wake-up call. When people get sick, hospitals become overwhelmed, health systems are challenged, and the death toll increases." speak Dr. Carissa Etienne, Director of PAHO, speaks during her weekly press conference.
Area Summary
North America occupies more than half of infections in the area. The number of cases has increased over the past seven weeks, driven by new infections in the United States, where more than 605,000 new cases have been recorded, an increase of 33%.
The largest increase in cases occurred in Central America, where the infections 80% increasewhile in South America, Brazil recorded more than 120,000 cases – an increase of 9%.
Meanwhile, Argentina sees almost 34,000 cases, a staggering number 92% increase compared to last week. Other countries in the sub-region also saw spikes, while Venezuela, Paraguay and Brazil recorded increases in the number of deaths.
Cases in the Caribbean have increased for five consecutive weeks. Infections increased by 9.3% and deaths by 49%, compared with the previous week. Fourteen countries and territories also reported increased hospitalizations.
Dr Etienne urged governments to consider and act on these numbers. "The truth is that this virus is won't go soon," she speaks.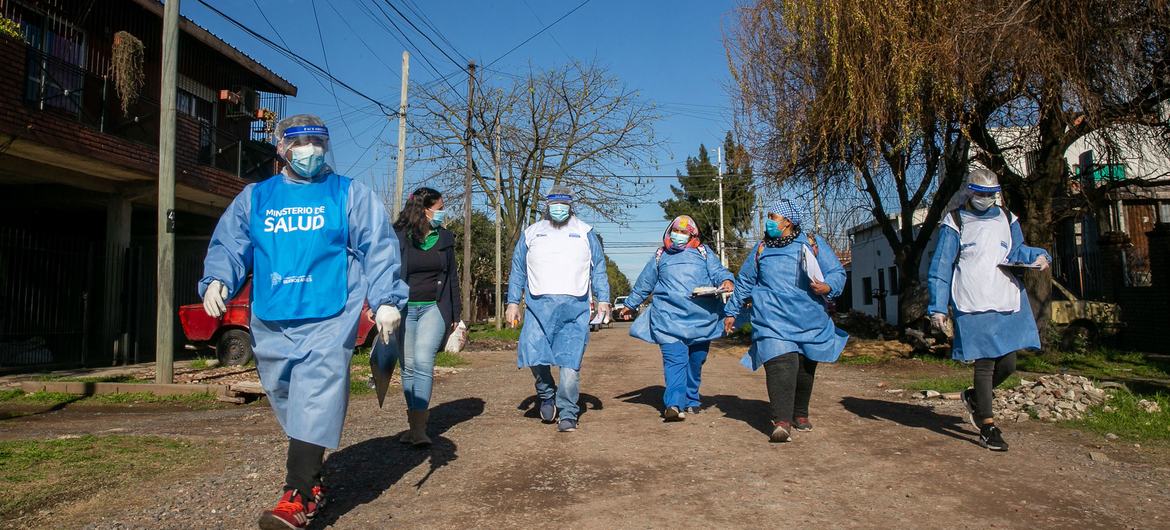 © PAHO
Healthcare workers in Burzaco, Buenos Aires, the capital of Argentina (file photo).
After a lower period Coronavirus transmission, many national and local governments are waiving mask mandates and physical distancing requirements, and have reopened borders. However, many people in the Americas are still at risk.
Only 14 out of 51 PAHO countries and territories have achieved it WHO vaccination target for 70% of their population. Disparities in coverage still exist for at-risk and vulnerable groups, such as the elderly, those with pre-existing medical conditions, and Indigenous and Descendant communities.
Dr. Etienne emphasized that wearing a mask and practicing physical distancing is Measures are still in effect to reduce virus transmission.
"Governments should continue to monitor COVID-19 She said.
The public can also play a part by embracing vaccines, masks and other protections, she added.
Learning from the pandemic
Dr. Etienne has recommended that countries Don't forget the lessons learned more than two years living with the new illness.
They must continue to focus on the virus, amid dwindling testing. Even in places where self-testing is available, results are not always communicated to health authorities.
"Testing and surveillance are our eyes and ears on this pandemic and can help governments make informed decisions," said the head of PAHO, emphasizing the importance of maintaining and strengthening the related infrastructure.
At the same time, governments must continue to invest in their health systems to respond quickly to any new developments and to address health needs beyond COVID-19.
Dr. Etienne recalls that when the COVID-19 vaccine was first developed more than a year ago, concern is more than equity and ensure adequate dosage to cover the most vulnerable.
"Supply is the most important barrier throughout 2021," she said. "That is no longer the case." "We have enough dosages to cover those most at risk and we have an obligation to do so."