Horse Racing
NYRA Concludes Case Against Baffert, Defense Opens
The New York Racing Association concluded its case seeking the suspension of trainer Bob Baffert Jan. 26 during the third day of an administrative hearing, and Baffert's legal team jumped right into its case after its motion for a directed verdict was reserved for later ruling.
The motion, presented orally by Baffert attorney Clark Brewster, basically argued that prior rule violation determinations against Baffert constitute res judicata, or things that have already been decided, so that New York cannot issue another penalty for the same infractions. Brewster also cited Baffert's free speech rights to support his motion.
Until late in the day, the tone of the proceedings was more placid than the first two days of the hearing when attorneys leveled withering charges and in some cases rhetoric against opposing parties, and testy exchanges occasionally took place between the hearing officer, retired New York State Supreme Court Justice O. Peter Sherwood, and Brewster.
Henry Greenberg, serving as counsel for NYRA, called four witnesses during the morning session to prove the lengths to which NYRA goes to promote safety for horses and people, and in an effort to prove business backlash following the aftermath of the 2021 Kentucky Derby Presented by Woodford Reserve (G1) when Baffert trainee Medina Spirit  tested positive for betamethasone.
— Anthony Patricola, who began working as a NYRA investigator in 2017, was called to establish protocols used by his team to ferret out lame horses on race days. He described how investigators observe every horse entered to race on a given day to see if there are indications of pain. If there are, wheels start to turn, and the head NYRA veterinarian is notified.
"Use of a (pain) masking agent would absolutely affect my ability to know that a horse has an underlying injury and lead to his breakdown on the track," Patricola said. "I have observed horses break down. They go down hard. They're always gonna try to get up. It's bad for the sport, bad for public perception. There is a fair amount of struggling going on. When there is a snapped bone, it is very difficult to observe."
He said breakdowns cause a risk to humans too, including jockeys, outriders waiting for the ambulance, anyone holding the horse in an equine ambulance due to tight quarters, and veterinarians administering a humane lethal injection.
On cross-examination Patricola said he has not identified a problem in a Baffert-trained horse or a breakdown; that Baffert's assistant trainers have been cooperative; and that he is unaware of any violations while those horses were in New York. He added, however, that if masking agents were being used on Baffert horses, it would impede him from detecting lameness. 
He said he was asked to look into the records of the horses that form the subject matter of the prosecution case in fall 2021, but not before.
— Anthony  Verderosa, a veterinarian, has been employed at NYRA since 1995 and has been the director of the NYRA veterinary department since 2017, a position in which he supervises eight veterinarians and one lay person. He was an associate examining vet from 1996-2005. 
Verderosa said the potential for injury during racing is much higher, and it puts other horses at risk, if a race horse is lame. Thus, members of his team go to assigned stalls of every horse entered on a given day to palpate and pick up equine limbs while looking for inflammation and pain, and to watch horses jog. Horses are also monitored in the paddock, going onto the track, and at the starting gate after warmup. A jockey may say he or she notices something is off. If something amiss is detected, a scratch is recommended to stewards, who are empowered to make it official.
Repercussions for non-detection can be significant, he said, including serious physical injury and death. 
He described phenylbutazone (bute) as a non-steroidal anti-inflammatory, lidocaine as a numbing agent, and betamethasone as a corticosteroid used in a joint injection to reduce inflammation. They can all mask injury and "confound" the examining veterinarian. "You might think a horse is clinically sound to race, and it might not be," he said.
He said on further examination that not all trainers speak the truth, and that's why post-race testing exists and security is placed on all horses 72 hours out for grade 1 races and 48 hours before other marquee races.
Verderosa said he had not met Baffert nor experienced cooperation problems with Baffert's staff. He acknowledged threshold levels, dosage amounts, and withdrawal times have changed over the years, and sometimes trainers get violations after changes, but he said Baffert had none in New York. He had no knowledge of any Baffert horses being scratched. 
On redirect in response to a question about Baffert's history of overages, he said he'd never heard of another trainer with six positives in a 14-month period. 
— Matthew Feig has been general manager of NYRA Bets for about 18 months, overseeing all aspects of the operation. He was senior director when hired in 2015. The operation before 2016 operated intrastate only, then was developed into a national wagering platform legal in 31 states. Feig said, "We started about 10 years behind the curve" against three major competitors.
Licensing requirements in 16 states ask about litigation, financial history and viability, television exposure, and sometimes integrity of racing. When asked by Sherwood, Feig named seven states considered to be the most vigorous in their investigations.
He described the Kentucky Derby as the "holy grail" of the advance deposit wagering business. That day creates the largest wagering volume of the year, and Kentucky Derby 2021, Derby 2020, and a running of the Belmont Stakes (G1) hold the record for the top three wagering days, in that order.
When news broke that Medina Spirit tested positive he said "our customer service requests (with 20 persons on staff) spiked by 20% above normal with requests for Derby refunds, payments for bets on Mandaloun " and so forth. "Social media was putting out refund rumors, but we could not do that."
He was asked about bettor reactions at his business to regulatory problems experienced by trainers Linda Rice and Wayne Potts and said there were essentially none, but that there have been calls about other trainers, including some about medication issues, recalling the Jorge Navarro case. Navarro was recently sentenced to a five-year prison term in New York.
While a new wagering record was set for all-sources handle for the 2021 Saratoga Race Course meet during which Baffert ran horses, he told attorneys on both sides, "We should have done better than this number … based on our business intelligence estimates, and coming out of a pandemic."
He denied the influence of specific trainers on handle and said race-by-race volume was based more on factors like field size, whether the contest is a graded stakes, and whether it kicks off a multi-race wager like a pick 5 or pick 6.
However, he acknowledged to Baffert's counsel he didn't see any massive boycott of races in which Baffert participated.
— Donald Scott is vice president of marketing for NYRA General, which is the brick and mortar business, and NYRA Bets, and has spent his entire career in marketing and advertising, including online wagering marketing for the last 20 years.
He said the NYRA brand is strong but that its ad budget is smaller than publicly traded companies in racing and sports betting. Since the Kentucky Derby is the one race everyone knows about, "we spend more money to try to expand our customer base during that time than any other time of the year, including the Belmont Stakes."
The bad news following the Derby didn't go well, he said. "On May 9, the news broke that Medina Spirit tested positive for drugs. We were getting blasted (on social media) by our fans, wanting to know if we knew this was going on. The next day, when Mr. Baffert went on his speaking tour and sessions, it got worse."
He said he'd never seen such magnitude of backlash. "It was on the local news in Topeka, Kansas, where my mother lives …"  From a digital perspective, it was on CNN, the New York Times, and the Washington Post. "A lot of people thought this would never happen … It threatened our brand integrity," he said.
On cross-examination after calling Baffert "the Michael Jordan of racing," Scott denied customer blowback about the problems of trainers based in New York. He said his office did not investigate when July protests occurred in July 2021 at Saratoga over 53 horse deaths in New York that year. "That was not our responsibility," he said while relating he had discussion with a supervisor about horse deaths nationwide.
Baffert's Turn

Baffert's legal team led off with two Hall of Fame witnesses, jockeys Mike Smith and John Velazquez. Both appeared remotely when called to testify by attorney W. Craig Robertson III.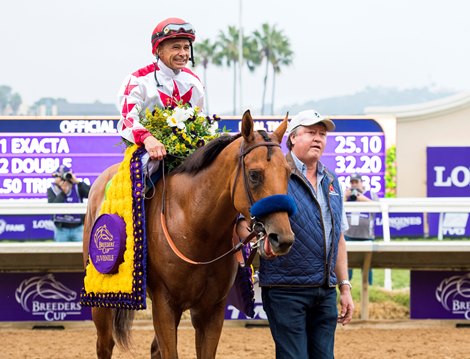 Mike Smith enters the winner's circle aboard Bob Baffert-trained Corniche after the 2021 Breeders' Cup Juvenile at Del Mar
— Smith, 55, has been a professional jockey for 30 years "in the U.S., Europe, the Middle East, and just about anywhere there's a racetrack," he said, and rides for any trainer willing to give him the opportunity. "I ride for 10, 15, 20, and up to 50 trainers at any given time," he said.
"I have ridden between, 33,000, 34,000 races … and have won more than 5,500," Smith recounted in response to questioning (Equibase statistics at the time showed 5,631 wins from 33,973 mounts). Those include the Kentucky Derby twice, the Preakness (G1) twice, the Belmont Stakes three times, and 27 Breeders' Cup races. He was elected to the Hall of Fame in 2003 and has received numerous other honors. Smith said he's served as co-chair of the Jockeys' Guild for four or five years and is a former vice president and a member since 1983.
He described a relationship with Baffert of more than 20 years both riding in races and during morning training. Baffert's barn is run "second to none. It's immaculate, it's beautiful the way they take care of horses," Smith said. He reeled off a litany of high-level horses he's ridden for Baffert, highlighted by Triple Crown winner Justify.
Smith described Baffert as "very straightforward, very honest, very truthful. If he doesn't like the way I rode a horse, he's the first one to tell me." Saying he feels safe on Baffert's horses because he takes good care of his horses, Smith added, "He's one that likes a lot of feedback." 
In response to the final question posed during direct examination, Smith said he doesn't believe Baffert is a threat to the integrity of racing or to the safety of horses.
On cross-examination, Smith didn't disagree with Equibase statistics saying he's ridden for Baffert 573 times with 156 wins, which Smith agreed is a "tremendous percentage," along with about 170 seconds and thirds and total purse earnings of $44,762,927. From that, Smith said he probably made around $2 million after taking care of his obligations.
The jockey denied personal knowledge of anything related to medication violations which form the basis of NYRA's case against Baffert. Asked if he is aware of any other trainer with six drug positives in 14 months, he said, "No, I don't really know about the trainers, I'm more involved with the riding side of it."
Smith agreed that the Arkansas Derby (G1), Longines Kentucky Oaks (G1), and Kentucky Derby are three of America's great races and said he is not aware of any trainer other than Baffert with three drug violations in three grade 1 races in the span of one year. 
On redirect Smith said of Baffert, "Arguably he is the best trainer of all time."
— "My racetrack name is John Velazquez. My real name is Johnny," opened the rider's testimony. Velazquez, 50, said he's been riding since 1990. Based in New York, he often rides in Florida and Kentucky and has his tack in California for the first time this winter. Like Smith he said he rides for multiple trainers.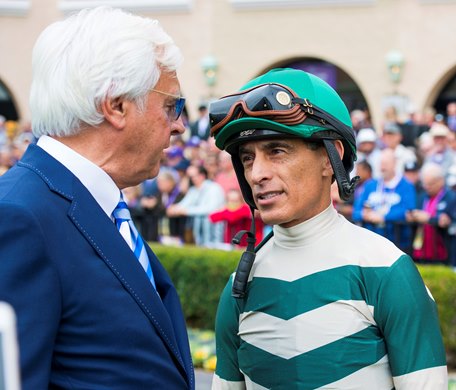 (L-R): Bob Baffert and John Velazquez in the paddock at Del Mar
Velazquez said that from 32,000 or 33,000 mounts he has about 6,300 wins (Equibase showed 6,383 wins from 35,115 mounts), with four Kentucky Derby victories and two in the Belmont Stakes along with 18 Breeders' Cup races. Like Smith, he's in the Hall of Fame and has numerous other honors. He owns "three or four" year-round riding titles in New York with 26 meet championships and is the all-time leading rider at Saratoga. He serves with Smith as co-chair of the Jockeys' Guild.
"I'm impressed with the way (Baffert's) barn is run, the crew, very impressive," he said of their relationship over two decades, calling Baffert honest in their dealings. Velazquez said he has not seen Baffert act outside the rules of racing and is not concerned with his safety while riding for Baffert. "I think he does a good job with the horses. I took the opportunity (this year) to go to California and ride for him," the Hall of Famer said.
Velazquez said he believes Baffert is not a threat to horse racing or the health and welfare of jockeys.
His cross-examination went much like Smith's, with questioning pointing to the lucrative results from working with Baffert: from 122 mounts, he's had 47 wins, 24 seconds, and 15 thirds and earned more than $16 million in purses. 
Regarding Baffert's six drug positives in 14 months, Velazquez said he has no personal knowledge of those events except for two: on Sept. 4, 2020 he rode Gamine  in the Kentucky Oaks, and on May 1, 2021 he rode Medina Spirit in the Kentucky Derby. 
However, Velazquez said he doesn't know how Gamine was treated before he saw her in the paddock on Oaks day, other than Baffert "told me the horse was treated with (betamethasone) in plenty of time, but she came back positive," the rider said.
After the bad news broke about Medina Spirit, Velazquez said Baffert first said to him, "I never treated this horse with (betamethasone)" and that later Baffert told him the horse was treated with a cream. The last last time Velazquez saw Medina Spirit before the Derby was a gallop handled by an exercise rider two days prior.
He concluded by saying, "I consider Baffert one of the best trainers. I think we have a great relationship."
— Steve Lewandowski was the final witness of the day, and by the time it was over it's not clear if either side benefited from his testimony. 
Lewandowski was a state steward in New York until 2019. He said he "offered my support (to Baffert) because I feel he is being taken advantage of, because I never had any problems with him."
As things turned out, Lewandowski said he also thinks Rick Dutrow, who was suspended from racing for 10 years and fined $50,000, got a raw deal too. During this portion of his testimony, Lewandowski partially shut down answering questions and instead engaged in a lengthy, emotional soliloquy about how Dutrow was mistreated and Baffert is being mistreated, shaking his finger at NYRA's attorney.
The hearing will resume Thursday morning. There's no clear indication how long it will take to wrap things wrap up.