Horse Racing
Alvarado Pursuing a Derby Dream with Rocket Can
Tom Pedulla is interviewing famous horse owners, trainers and runners as they make their way to the 149th Kentucky Derby (G1) on May 6 at Churchill Downs.
This week's section features jockey Junior Alvarado, who seems to have a strong contender in Missiles can on his quest to win his first Derby. Alvarado guided his son into naughty finished strong in a row, winning the Holy Bull Stakes (G3) and placed second behind the 2 year old champion Forte in Fountain of Youth Stakes (G2) March 4 at Gulfstream Park. Rocket Can is coached by Bill Mott.
Alvarado, 36, discussed his Derby prospects, career and life outside of racing during a Q&A session conducted on behalf of America's Grand Prix.
Tom Pedulla: How do you rate Rocket Can's performance in Fountain of Youth?
Juvenile Alvarado: I think he ran a much better race than last time. I am quite satisfied with him. He's still an immature horse, still growing, so I'm very pleased with that race. We all want to win. But we have one goal, which is the Derby.
City: Does Rocket Can need to support Holy Bull with another good result?
JA: Yes Yes. Sure. For many, they say the number is very slow. It was not a good race. I know what I have under me. He didn't have to win, but he needed to have a good race at the Fountain of Youth and I think he did.
TM: You have completed 4 1/2 lengths after Forte. How do you close that gap?
JA: My forte is good horses, but my horses are not 100% seasoned. He has six races under him, but I still think he's immature. He is a very late developed horse. I think with more races he will get even better.
City: Is there a way for Rocket Can to improve?
JA: For whatever reason, my horse was very upset during the ensuing parade. He was bothered by, I don't know exactly what. There are little things here and there that you can definitely do and he can advance. He galloped quite strongly. I don't want to say that in galloping I passed Forte, but I like the way I feel. I'm pretty sure Bill Mott hasn't tightened the screws on him yet. You don't want to have it all now and have nothing left for the Derby. I think he can at least advance a few lengths.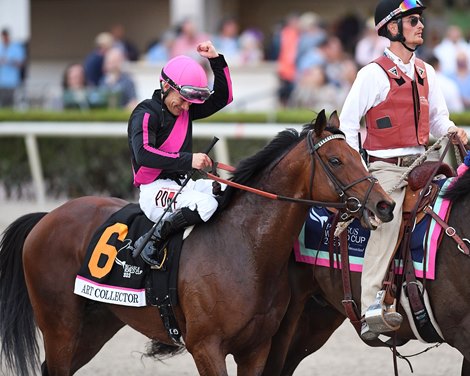 Art Collector and Junior Alvarado Win an Invitation Share to the Pegasus World Cup at Gulfstream Park
City: How does it feel to ride in a Derby match?
JA: It was a unique experience, unlike anything I've experienced before. I've been to the Breeders' Cup (World Championships), this year I'm at the Pegasus (World Cup Invitation Shares, G1) for the first time, but there's something about the Derby. It worries you a little bit. I don't care how seasoned you are in those kinds of races, it's going to affect you a bit. It was just an unbelievable experience. It was an experience like no other.
City: What was your ambition when you left Venezuela in 2007 for the United States?
JA: My parents (Norma and Rafael), they don't have jobs. I am their supporter. I am supporting my sister (Milagros). She is in high school. She is very smart. She wanted to go to college, but in terms of money, I was the only one to support her. That was my goal in coming here. I want to do good so I can take care of my parents the way they took care of me until I started riding. Little by little, I started setting goals. I want to be a top racer somewhere. I aim to go to New York and do good. For me at this point, I want to keep the sound. If I stand on my own two feet, I think I can do a lot this year.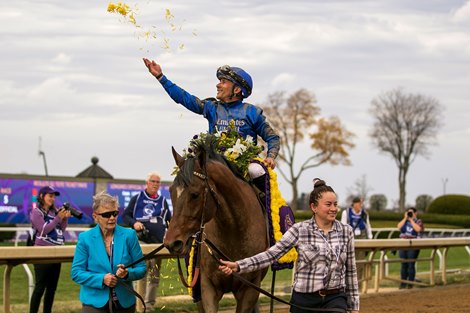 Cody's Wish and Junior Alvarado win Breeders' Cup Dirt Mile at Keeneland
City: You won your first Breeders' Cup when Cody's Wish won the Breeders' Cup Dirt Mile (G1) last November. What does that mean for you?
JA: It means a lot. It's on my bucket list. Honestly, I want to do it for Mr. Mott who has been helping me for many years. I need a special horse to accomplish that. I won't have any other way. That will stay with me, and with many people, forever.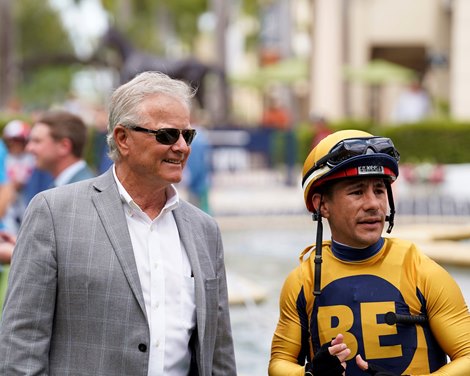 Bill Mott and Junior Alvarado at Gulfstream Park
City: How often does Bill Mott ride horses?
JA: I would just say it was a dream come true. I was very fortunate to have had the opportunity to work with a rider like Bill Mott. I've been riding for him for 11 years. I know a lot of jockeys would like to be in my position. Every chance I get, I let him know how grateful I am for the opportunity he always gives me. I don't take anything for granted.
City: What is it about him that makes him so successful?
JA: We have such great communication. We talk a lot about the races, about the horses. The way he works with the horses, the way he develops the kids, you can see what he wants to do with the horses. He always looked far ahead of what to do with them. It was a long process, a long vision that he had with each horse. The way he handles the horse, he gives the horse time. He let them speak for themselves. He didn't push his horse to get there. He let them take you there. I really like the way he works. He is an unbelievable knight.
City: You and your wife, Kelly, have three children, Adrian, 12, Adalyn, 7, and Axel, 3. How do you balance family life with demanding career?
JA: It's really hard. Currently, my 12-year-old son plays baseball very well. He loved baseball and I had to miss many of his games. I can feel that he is very proud. He would call me after a game and say, 'Dad, I did this. I hit a double. I hit three times. I've got three RBIs and all this.' My wife records it and sends it to me, but it's give and take. I have to do what I have to do to make sure their dreams come true, so I have to work. There are days when I'm tired, there are days off, but I work through it and make sure I have time with them and we have fun.
City: What does winning the last Derby mean?
JA: The Derby is a big hit on my bucket list. I want to win the Derby. I don't know what to do, but I have to make it happen, for myself and my family. I worked for it.